Home

/

Phoenix Puppy Large Breed Ocean Fish & Barramundi 3kg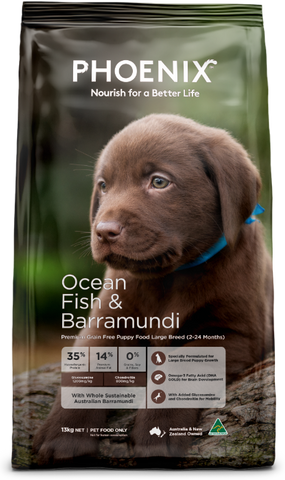 Phoenix Puppy Large Breed Ocean Fish & Barramundi 3kg
Stock Locations
Richmond:

2 in Stock

Nelson:

1 in Stock
Description
Phoenix Puppy large Breed Ocean Fish & Barramundi 3kg

Your bouncy puppy needs plenty of energy for exciting adventures, long snoozes and exploring walks. There's smells to sniff, people to meet and fun to be had. Give your puppy the everyday nutrition it needs, made by your local pet store owners.

Every bite has 34% protein, including whole fresh sustainably sourced Australian barramundi, which is rich in essential proteins and nutrients, and ideal for growing pups.

It's specially formulated for large breed puppies, with larger kibble size for bigger puppy jaws to crunch their food. Your large breed puppy will take up to two years to grow into those big floppy paws and ears. To support this growth, the large breed formula offers a nutritionally balanced combination of glucosamine and chondroitin to promote muscle development along with balanced levels of calcium to support controlled growth. Your puppy is growing and learning every day, so our formula is rich in DHA to support brain development and cognitive function. As your puppy grows, they will get all the essential mineral supplements, prebiotics and probiotics for improved nutrition and gut health. Omega-3 fish oil promotes a healthy skin and coat. With 35% marine protein, it's a sustainable, nutrient-dense food that's ideal for big puppies who will only get bigger.

For large breed puppies 2-24 months of age.

Available in 3kg and 13kg bag sizes.